One of our favourite family walks is down to Start Point lighthouse, on the most southerly headland in the country. The promontory has been designated a Site of Special Scientific Interest (SSSI), recognising the national importance of its geology, lichens, invertebrates, rare flowering plants, breeding birds (including the rate Cirl Bunting)  and an intertidal area of major biological importance (including some rare species of seaweed).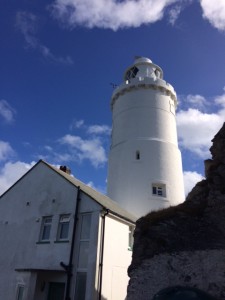 Park at the car park (charges apply in the summer months) and follow the path along the contours of the hillside, presenting sweeping views over Start Bay on one side (from the lost village at South Hallsands, to Beesands, Torcross, Slapton and beyond to Dartmouth) and the shelter of jagged ridge of prominent rocks on the other.
The Skerries (a rocky reef) extend 6.5kms off Start Point. At low water the bank is only just over 2m below the surface, the Skerries are well known as a good fishing spot but equally as a hazard to shipping. The coastline from Start Point to Dartmouth is strewn with shipwrecks of all shapes and sizes. One significant wreck near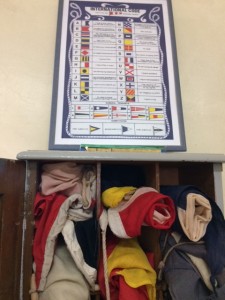 Start Point found by a group of local divers contained a hoard of tin ingots and beautiful gold bracelets and shed new light on historians understanding of the trade links of civilisations during the Bronze Age. The hoard can be seen in the British Museum in London.
Following countless shipping disasters and heavy loss of life, the lighthouse was built to alert ships to the danger of Start Point and its surrounding rocks, most especially Black Rock and flashed its warning light for the first time in 1836.
The lighthouse is open to the public in the school holidays and on weekends (tickets for a family of 5 are £12- cash only!), you can check the details here http://www.startpointdevon.co.uk/open-dates.htm  Tours run on the hour and take approximately 45 minutes.
The story of the lighthouse unfolds as you ascend from the bottom to the lantern room at the top, accompanied by an incredibly knowledgeable guide. Our children were particularly fascinated by the stories of the families of lighthouse keepers who lived in the lighthouse until it was automated in 1993. Visitors can climb right to the top, under the light, from which the views are breathtaking.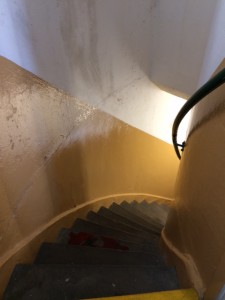 We would recommend extending your walk and returning to the car park by way of visiting Mattiscombe beach (one of our absolute favourites), and from where you may spot dolphins, porposies and grey seals.