South Devon knows how to kick off Christmas! Both Dartmouth and Kingsbridge have wonderful Christmas fairs. Dartmouth opens the festive season with a unique Candlelit evening (November 24th-25th) lantern parade and Christmas market.  Kingsbridge Celebrates Christmas is the first weekend in December and showcases local artisans, food producers and independent retailers.
This year I have decided to focus our Christmas shopping locally as well as crafting our own gifts. If I cant make it I am going to buy it in the South Hams – indeed I think everything on this list can be found within a 10mile radius of Beeson Farm!
Here are our top gifts that can be found in the South Hams:
My Sister in Law recently had a baby,  so we decided to buy something practical, beautiful and handmade from Wifflepigs (based near Start Point Lighthouse) who make beautiful handmade baby clothes in quirky an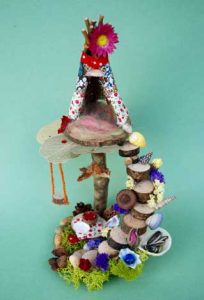 d colourful fabrics. Prices start at £8 for a pair of leggings. https://www.facebook.com/wifflepigs/
Naturemake is run by local artist Naomi who also offers workshops locally throughout the year. She sells kits online to make your own sculptures from natural materials (think unicorns, fairy houses, boats, tree houses made from wood, shells, petals etc). Our children have found pure delight in her workshopsand the Christmas scene we made a few years ago is now a treasured Christmas heirloom. Her kits make ideal Christmas gifts for children (and adults) of all ages. Its great to know that the recipients of these gifts can make something special, unique, eco-friendly and beautiful. Prices start at £7.50 for a small robin kit https://naturemake.co.uk/shop/
For a happy Ginmas what better than a bottle of locally produced Gin? The perfect drink to get you through the long winter nights in front of the log fire!  Salcombe Gin distillery opened in 2016 and its Start Point Gin has won numerous awards.  A ticket to the Salcombe gin school would be a fabulous experience for a gin lover and a bottle of Salcombe Gin is definitely on my list of Christmas list! https://www.salcombegin.com/
My son is a chilli fiend- the hotter the better! So this year I am off to the South Devon Chilli Farm for some Christmas shopping. Everything spicy from Chilli Chocolate to a grow your own Chilli plant is available in store or online.  https://www.southdevonchillifarm.co.uk/
My daughter and I love to collect sea glass from our local beaches and have been following the work of devon jeweller Olivia Joy Jones (who started off in Beeson) for a few years. This year we both want one of her stunning sea glass necklaces which she sells from the Gallery at Avon Mill Garden Centre. The Gallery also stocks a beautiful selection of cards, ceramics, art and other unique pieces. https://www.facebook.com/The-Gallery-at-Avon-Mill-1673482926234362/
Another local artist we have been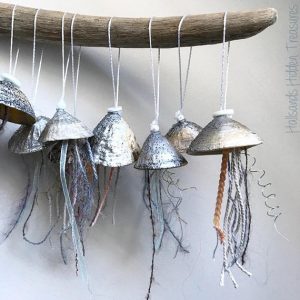 following on social media for a while is Hallsands Hidden Treasures. She makes beautiful decorations for the home using scavenged drift wood and natural materials from the beach, as well as plastics which have washed up, which she sells on Etsy. Her decorations really add something uniquely Devon to the Christmas tree- we especially love her hanging jellyfish made from limpet shells! https://www.etsy.com/uk/shop/HallsandsTreasures?ref=search_shop_redirect
This year we bought some of graphic designer Jennifer Cooper Designs beautiful pictures of the local area to adorn the walls of our cottages. Her designs feature local landmarks and towns such as Burgh Island, Overbecks, Salcombe and Kingsbridge. They make a beautiful gift for someone who has Devon in their blood, or to remind you of a holiday well spent in Devon! Prices start at £15  https://www.jennifercooperdesigns.com/
This Christmas avoid the battle of the highstreet. Shop local, shop ethical, shop unique and see what your local community has to offer.