We recently read this article about giving up plastic for Lent https://metro.co.uk/2018/02/14/best-thing-give-lent-plastic-not-chocolate-7312789/?ito=social&fbclid=IwAR0ICRmiGWBp4LXCmfDn6oXwvpTdBTwcl585sEfociUxgmJcNBH8-gzy4oU
We all agree that single use plastic is absurd and the effects of plastic pollution in our oceans are starting to be seen everywhere. We will certainly be considering how we shop and the products we choose to try and go plastic free for Lent and hope that our self catering guests do too…
Stokeley farm shop has everything you could need from a high quality butcher, cheese counter, fresh baked goods, local vegetables, locally produced beer, wine and gin and all other manner of groceries and essentials. The shop is very happy for you to take your own containers for your meat etc. You can also take home your produce from the butchery and deli counters in your own reusable containers to help reduce single use plastic.
Pretty local is on online marketplace offering a fantastic array of high quality food and drink. Each of their sellers is located in south devon within a 20 mile radius of Kingsbridge, keeping food miles to a minimum and supporting local farmers and producers. Order online by midnight on Wednesday to have your food delivered to your cottage on a Friday so it is in the kitchen for you when you arrive (they will even unpack everything and put items that need it into the fridge). We are pleased to see that most items come in a paper bag or without uneccessary plastic packaging.
Milk – we supply our cottages with milk from Dartmouth Dairy, making sure there is a pint in the fridge for you when yo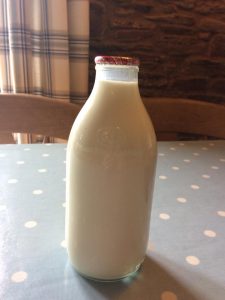 u arrive. Their delicious locally produced milk is delivered to our doorstep in glass bottles, which we then return to them for reuse and we are delighted that as the tide turns against plastic waste the old fashioned milkman is making a comeback!
Cleaning products we use biodegradable, eco friendly cleaning products on our changeovers and try to ensure that our cottages are equipped with the same. We use Bio D products which are approved by Cruelty Free International and the Vegan Society, which are also hypoallergenic. we buy in bulk and refill our own containers. We also use Ecover cleaning products, which are mostly renewable, biodegradable plant based ingredients.
Our handwash and washing up liquid is also supplied in bulk and we refill plastic bottles ensuring that we aren't contributing to the plastic waste problem.
We encourage all our guests to recycle via the recycling bins in the shed. We thoroughly clean and reuse empty plastic bottles for our homemade farmhouse cider and apple juice each year. We encourage guests to compost their food scraps which we use on the garden- or where applicable feed to our guinea pigs and chickens (they both love a broccoli stalk!)
Lets take just 6 weeks to try and make a change.