Pancake day is a firm favourite with all the family at Beeson Farm holiday cottages- especially the dog who waits expectantly for any failed flips and pancakes falling from the heavens! Although we love a good fluffy American style pancake for breakfast we think for pancake day you've got to go traditional. Guests are very welcome to go down to the chicken coop and collect fresh eggs for the recipe!
Here is our foolproof Beeson Farm Pancake Recipe (just make sure you have a really good flat bottomed pancake pan)
Ingredients
100g plain flour
2 large eggs
300ml milk
1 tbsp sunflower or vegetable oil, plus a little extra for frying
lemon wedges, to serve (optional)
caster sugar, to serve (optional)
Put the flour, eggs, milk, 1 tbsp oil and a pinch of salt into a bowl or large jug, then whisk to a smooth batter. Set aside for 30 mins to rest if you have time, or start cooking straight away.Set a medium frying/crepe pan over a medium heat and lightly wipe it with some oiled kitchen paper. When hot, cook your pancakes for 1 min on each side until golden, keeping them warm in a low oven as you go.Serve with lemon wedges and sugar, or your favourite filling.
For all your pancake day ingredients (including delicious fillings) head down to Stokeley Farm Shop (between Stokenham and Torcross).
For a sa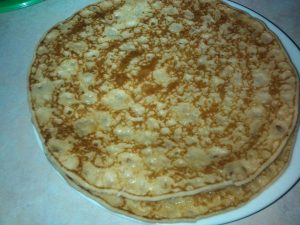 voury twist check out the recipes on the Riverford Organic website here https://www.riverford.co.uk/blog/2018/02/09/live-life-veg-pancake-day/
If you prefer to go out for pancakes we can recommend The Seabreeze Cafe at Torcross for big American fluffy style pancakes or head to the Cricket Inn at Beesands for their hugely popular seafood pancake!