January 21st is dubbed blue monday….apparently the gloomiest, most depressing day of the year!
We awoke to try and glimpse the t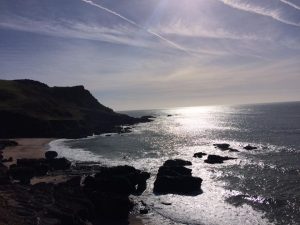 otal eclipse of the Super Blood Wolf Moon, followed by the sun rising over the Devon hills, illuminating the grazing sheep and sparkling off the calm seas.
We certainly do have blue days in devon… blue skies, blue sea and wide horizons where the two meet. Living by the coast engages all your senses and we constantly appreciate each daily gift and ever changing view and are looking forward to  sharing it all with our guests in the year ahead.
So, if you need something to look forward to in 2019 book yourself some time away from the hustle and bustle of daily life. Our cottages are an ideal retreat and somewhere to spend  time with family, friends, loved ones – or even just with the dog!
Our special offers are available until the end of March with short breaks from just £210. Contact us for details.